NEXT UP:
PREPARE TO MEET SOME GHOSTS. BRRRRRR!
(and it is not even October yet)
An overnight driving tour is being planned to Ghost Towns and other haunted sights in Eastern Washington in the Ephrata and Roslyn area on the weekend of June 24-25
(rescheduled from May due to conflict with Mother's Day).
Bring your "Ghost" repellent.
(unless it is the type of Ghost one drives).
Watch your email inbox for more information.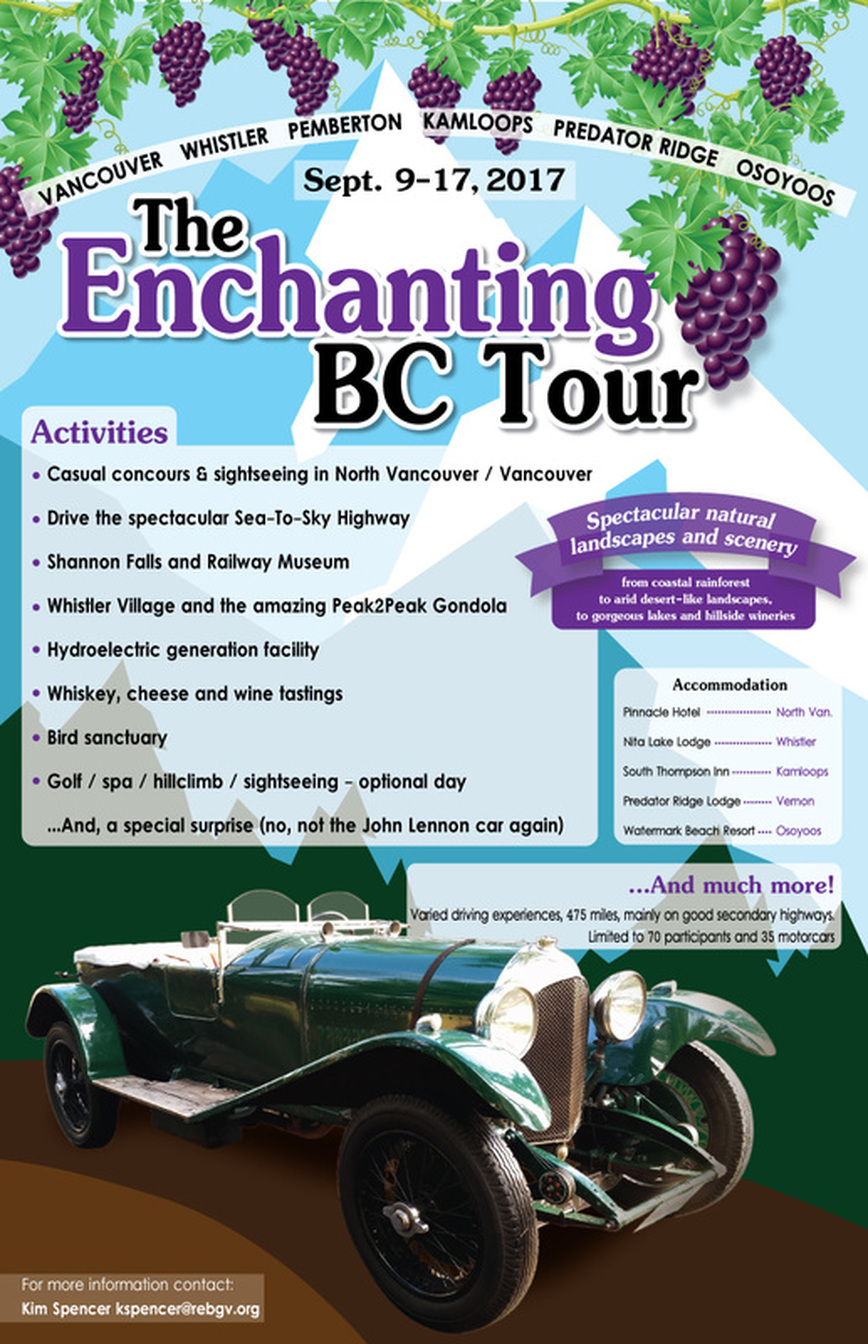 ___________________________________
Open Registration begins 3/1/2017 for this National Tour. The Registration Form and the Frequently Asked Questions about this National tour is available from the Editor by using the CONTACT US tab found under MORE or directly from the RROC HQ at 717-697-4671
Come join us in Beautiful BC for our Fall Tour, provisionally titled "Sea, Sky and Lakes", from September 09 - 16, 2017. We're into the detailed planning and we hope it'll be as popular as our 2015 "Sea To Sky" Tour. The preliminary itinerary is as follows:


Sat 09 Sep: Arrival and registration, reception N. Vancouver
Sun 10 Sep: Informal Concours; local sightseeing N. Vancouver / downtown Vancouver
Mon 10 Sep: Drive to Whistler on scenic "Sea To Sky" Hwy; Shannon Falls; West Coast Railway Heritage Park; Peak To Peak Gondola.

Tue 11 Sep: Drive to Pemberton; hydroelectric plant; whiskey distillery
Wed 12 Sep: Drive to Kamloops; Lillooet winery
Thu 13 Sep: Drive to Penticton; Armstrong cheese factory
Fri 14 Sep: Optional local drives including hillclimb; spa or golf
Sat 15 Sep: Drive to Osoyoos; winery; closing banquet
Sun 16 Sep: Farewells

For our American friends, N. Vancouver is a suburb of Vancouver, easy to reach by heading north on I-5 (exchange PMC for complimentary dogsled at the border). To return, Osoyoos is right on the border and you'll head south from there on Hwy 97 towards Yakima WA, then S., E. or W as you wish. If you want to be a rider, you'll fly into Vancouver, then we'll (maybe) get you back there to fly home.

This Tour is being arranged by the same guys, mainly Kim Spencer and myself, who did the Sea To Sky Tour, which may or may not be a good thing......... If that doesn't put you off, mark your calendars and await further developments with bated breath (or baited breath, in my case).

Dave Baron